The 2023 Subaru BRZ earned high praise from critics for its outstanding manual transmission and powerful 2.4L engine. Naturally, automotive enthusiasts were eager to see what the 2024 BRZ would bring to the table. For track enthusiasts, the standard 2024 Subaru BRZ wouldn't suffice; their anticipation was centered around the upcoming BRZ tS model. While not full STi vehicles, the tS models are finely tuned by STi to deliver exceptional track performance. However, previous tS models were often limited to a mere 500 units, leaving many disappointed due to the exclusivity.
Fortunately, the excitement soared when the 2024 Subaru BRZ tS made its debut at Subiefest California, and rumors spread that this time, the model might not have limited production. The online release of pictures showcasing the car's distinctive exterior and interior design only fueled the anticipation further. Thankfully, Subaru has finally revealed the comprehensive details of the 2024 BRZ tS, and they are indeed thrilling.
Subaru's press release proudly declares that the 2024 BRZ tS will offer the "ultimate performance and handling capability ever seen in a BRZ." The secret to this outstanding performance lies in the STi-tuned suspension and Brembo braking system. The front and rear Hitachi dampers work in harmony to optimize the car's center of gravity, allowing drivers to have precise control. The Brembo braking system, with its larger pads and rotors, promises impressive stopping power, enhancing safety and confidence on the road. Furthermore, the 18-inch wheels equipped with Michelin Pilot Sport 4 tires significantly improve grip. The tS model boasts a low and wide stance, achieved through its large rear fender, adding to the car's sporty appeal.
Under the hood, the 2024 BRZ tS packs a punch with its 2.4-liter 228 hp Subaru Boxer engine, paired with a six-speed manual transmission. What sets this manual transmission apart is its integration of Eyesight Driver Assist Technology, a groundbreaking feature for manuals. This technology offers several safety features, including a pre-collision braking system, providing an extra layer of protection for drivers. Additionally, the tS trim offers various luxurious extras, such as heated exterior power mirrors, blind-spot detection, and Starlink connectivity.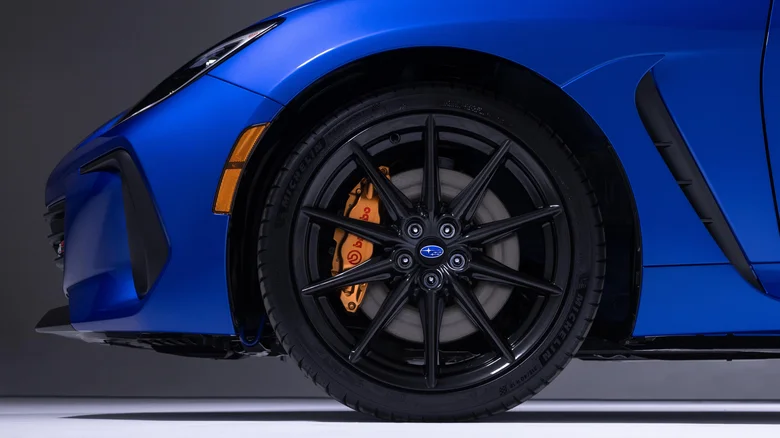 In terms of aesthetics, the 2024 BRZ tS comes in multiple colors, each adorned with sleek 18-inch dark gray aluminum alloy wheels. The interior is distinguished by unique blue accents, adding a touch of sporty elegance.
Subaru enthusiasts won't have to wait too long to get their hands on this thrilling machine, as it is scheduled to be available in the first quarter of the following year. However, pricing details are yet to be disclosed. While Subaru hasn't explicitly confirmed whether the model will have non-limited production, they haven't denied it either, leaving room for hope and excitement among fans. The 2024 Subaru BRZ tS promises to deliver an unparalleled driving experience for those seeking high-performance thrills on and off the track.