Hitachi has developed a metaverse-based system that lets skilled workers run remote demonstrations using real-world factory equipment. This system is designed to help industries where know-how is concentrated among aging veterans.
The system uses a virtual reality headset to superimpose an image of the instructor's hands on a drum-shaped machine. The instructor, who is in another location, can move freely within the metaverse factory and can also see the entire work site from above.
The system combines ceiling camera and sensor data to re-create the factory in the metaverse in real time. Instructors can monitor the trainee's movements through the virtual link and offer guidance.
Hitachi deployed proprietary data analysis technology for efficient processing of 3D data. This enables the metaverse to operate without lag on conventional Wi-Fi connections, as well as on 5G networks. The platform is compatible with off-the-shelf cameras and virtual reality devices.
In the future, Hitachi looks to field-test the metaverse at railroad construction sites and power plants. The company is also considering taking it outside the group.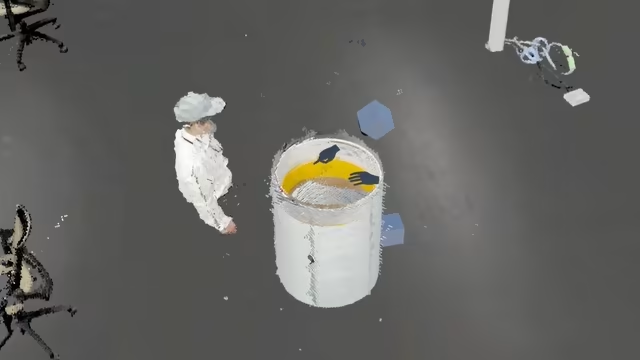 The metaverse-based system has the potential to revolutionize the way that training is conducted in the manufacturing sector. Veteran employees can now train younger workers remotely, from home or an office. This is especially important in Japan, where the population is aging rapidly and there is a serious labor shortage.
The metaverse-based system is also being used in other industries, such as automotive manufacturing. BMW has developed a virtual factory to test production lines for optimum output before building them in the real world.
The metaverse has the potential to revolutionize the way that we work and learn. By providing a virtual space where people can interact with each other and with real-world objects, the metaverse can help us to bridge distances and collaborate more effectively.