Cadillac has unveiled its 2025 CT5 sports sedan, which features a modified version of the Escalade's massive in-dash display. The CT5's display measures 33 inches diagonally, compared to the Escalade's 38 inches.
The display is capable of a stunning 9K resolution and curves toward the driver in a single, continuous screen spanning the driver's viewing area. The system also incorporates a customizable user interface designed to offer a technology-forward and personalized experience.
In addition to the large display, the 2025 CT5 also features a number of other new technologies, including:
A new rear-wheel drive system that Cadillac says delivers "uncompromising performance."
A standard 2.0L Turbo engine with 237 horsepower and 258 lb-ft of torque, or an optional 3.0L Twin-Turbo engine with 335 horsepower and 405 lb-ft of torque.
An available all-wheel drive system.
A new Driver Mode Selector that allows the driver to tailor the CT5's responses to different driving conditions.
The 2025 Cadillac CT5 will go into production in the spring of 2023. Pricing and availability dates have yet to be announced.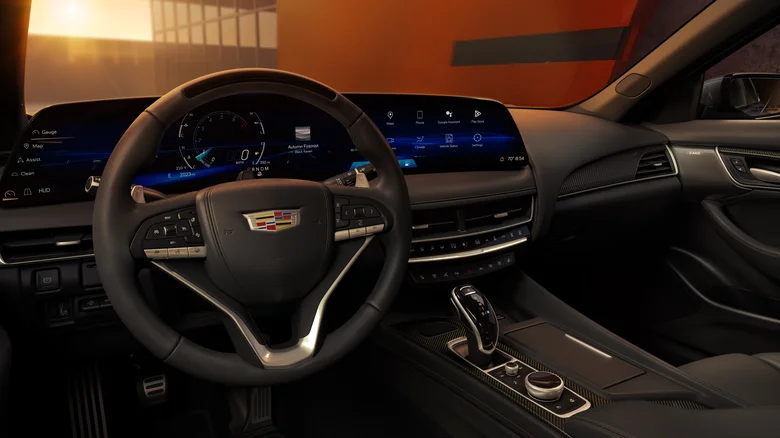 Here are some additional details about the 2025 CT5:
The interior of the CT5 has been redesigned with a more modern and luxurious look. The seats are now made with premium materials, and the dashboard features a more minimalist design.
The CT5 also comes standard with a number of advanced safety features, including automatic emergency braking, lane departure warning, and blind spot monitoring.
The CT5 is expected to compete with other luxury sports sedans like the BMW 3 Series, Mercedes-Benz C-Class, and Audi A4.
Cadillac is hoping that the 2025 CT5 will help to boost sales of the brand. The CT5 is the best-selling Cadillac model in the world, and the new model is expected to be even more popular.
The CT5 is a significant upgrade over the previous model, and it offers a number of features that are not available on other luxury sports sedans. The large display, the powerful engine options, and the advanced safety features make the CT5 a compelling choice for buyers in the market for a new luxury sedan.