In a recent update spotted on Tesla's online configurator for the Model S sedan and Model X SUV, enthusiasts of the brand's distinctive steering yoke will need to dig deeper into their pockets to enjoy this unique control feature. How much deeper? Well, U.S. customers will now have to shell out an additional $1,000 for the yoke option, while European and Chinese buyers will face additional charges of €1,000 and RMB 8,000, respectively. For those keeping tabs, this marks a significant four-fold increase from the previous $250 price tag for this "upgrade."
The story of the steering yoke goes back to 2021 when the latest generation Model S and Model X vehicles were exclusively equipped with this distinctive feature. However, earlier this year, Tesla CEO Elon Musk succumbed to criticism and began manufacturing these flagship models with conventional round steering wheels. For customers who had purchased their Teslas during the mandatory steering yoke era, a dealer-installed retrofit to a round wheel became available in January 2023, albeit at a cost of $700, and it quickly sold out.
The current steering yoke design, reminiscent of something from the 1980s television show "Knight Rider," has stirred strong opinions among Tesla aficionados. Some owners cherish it for its uniqueness and novelty, while others find it somewhat cumbersome to handle, especially at lower speeds. A similar divide exists among racing drivers who navigate Teslas, with a round-wheeled Model S Plaid dominating its class at the 2021 Pikes Peak Hill Climb, while another Model S Plaid set a record lap for production all-electric vehicles on Germany's renowned Nurburgring track using a steering yoke.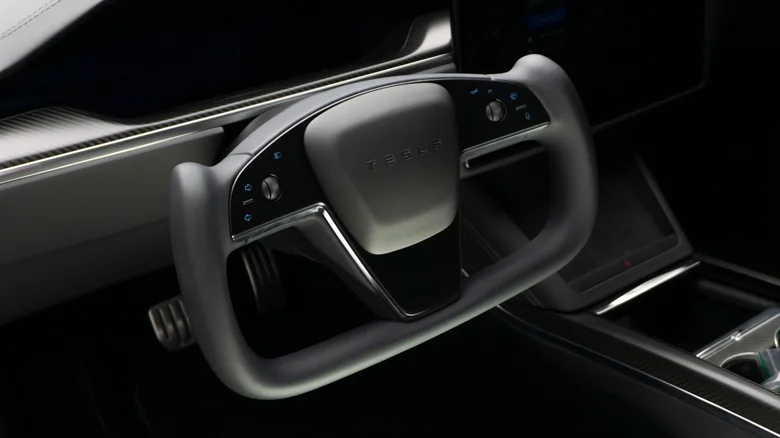 According to reports from InsideEVs, Tesla is not ready to bid farewell to its idiosyncratic steering wheel just yet. The company is said to be working on an updated yoke design that merges elements of the yoke and a conventional steering wheel, possibly making it more appealing to a broader audience. A steering wheel fitting this description (pictured above) was observed on the upcoming Cybertruck at Tesla's Investor Day event.
This recent alteration is just one of many in a continuous series of adjustments to pricing and option availability across the Tesla lineup. Additionally, Tesla enthusiasts eagerly anticipate the redesign of the brand's staple, the Model 3. Tesla's ability to adapt and innovate in response to consumer feedback remains a defining characteristic of the company's trajectory in the ever-evolving electric vehicle market.