The Amazon Fire TV Stick remote is a great way to control your Fire TV Stick without having to fumble with multiple remotes. It's powered by two AAA batteries, which means you'll need to replace them when they run out.
There are a few ways to check the battery status of your Fire TV Stick remote.
Check the battery status in the Settings app: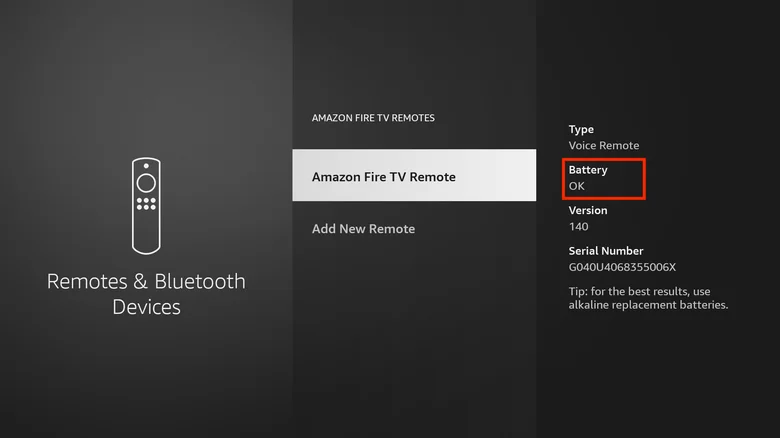 Navigate to Settings on your Fire TV Stick.
Select Remotes & Bluetooth Devices.
Go to Amazon Fire TV Remotes.
Check the battery status in the sidebar.
Use a third-party app:
Install the Developer Tools Menu app from the Amazon Appstore.
Open the app and select Developer Tools Menu from the Quick Launch Shortcuts.
Turn on the toggle next to System X-Ray.
An overlay will appear at the top of the screen.
The Fire TV Stick remote battery percentage will be displayed in the top right corner next to REM.
In addition to the remaining battery percentage, you'll also see a color-coded battery icon. If the icon is green, it means your battery percentage is high. Orange indicates there's about half the battery remaining, while red means the battery is low.
If your remote batteries are low, you can replace them by following these steps:
Remove the back cover of the remote.
Remove the old batteries and insert two new AAA batteries.
Replace the back cover of the remote.
Your Fire TV Stick remote should now be working with the new batteries.
Here are some additional tips for extending the battery life of your Fire TV Stick remote:
Turn off the remote when you're not using it.
Keep the remote away from heat and moisture.
Avoid pressing the buttons on the remote repeatedly.
Use alkaline batteries, as they last longer than zinc carbon batteries.
By following these tips, you can help to ensure that your Fire TV Stick remote battery lasts for as long as possible.