The Toyota C-HR was a bit different from Toyota's other cars. Most Toyota cars like the Camry or RAV4 have safe and simple designs. But the C-HR was unique and stylish, depending on who you asked. It seemed to be made for younger people who wanted a trendy and fresh car.
Originally, the C-HR was a concept car for Toyota's brand called Scion. That's why it has a hyphen in its name and looks very different from Toyota's regular cars. "C-HR" stands for "Coupe High-Rider," even though it has four doors. But in 2016, when Scion stopped making cars, Toyota decided to bring the C-HR into its lineup for the 2018 model year. This was a similar story for other Scion cars like the iM (which became the Corolla hatchback) and the FR-S (now called the 86).
However, the C-HR didn't really fit in even with Toyota. It was like Toyota made the opposite of what people wanted. It looked like an SUV but didn't have the features people usually want in an SUV. It didn't have all-wheel drive, which is common for SUVs, and it never offered it during its production. It had slightly better fuel economy than the RAV4, with 29 miles per gallon on average, while the RAV4 got 25 miles per gallon with all-wheel drive. But compared to the smaller Camry, it fell short, as the Camry got 34 miles per gallon.
So, it wasn't very fuel-efficient, lacked common features for a crossover, and wasn't particularly fast. A test by Car and Driver found that it took a slow 11 seconds for a 2018 C-HR to go from 0 to 60 miles per hour.
Also, it wasn't a great deal. The new RAV4, introduced in 2018 for the 2019 model year, had more to offer. A 2019 C-HR started at $22,265, while the base model RAV4 started at $25,500. If you wanted all-wheel drive for the RAV4, it went up to $26,900. The RAV4 also had better fuel economy, with the 2019 AWD RAV4 getting 28 miles per gallon on average.
So, it wasn't much cheaper than a car with more options, and the small fuel efficiency advantage it had over the RAV4 didn't matter much in the end.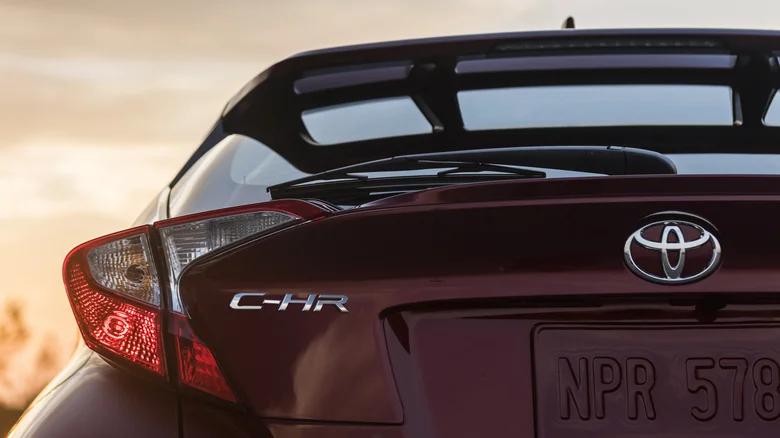 All these factors made the C-HR a tough sell for Toyota. In 2019, Toyota sold 48,930 C-HRs, which might sound okay, but the RAV4 sold a massive 448,071 units that same year. In 2020, the C-HR didn't do any better, selling 42,936 units while the RAV4 sold 430,387. It's impressive that Toyota sold ten times as many RAV4s.
In the end, the C-HR couldn't compete with other cars Toyota had. It wasn't fast, efficient, cheap, or popular. Any one of these reasons would be enough for Toyota to stop making the C-HR, but all four together made it clear it was time to say goodbye. In 2022, Toyota discontinued the C-HR.